What customers
say about us
"Absolutely delighted with my partial ! The process was super simple with tons of good information and directions! Will totally recommend to others and use again of I need more!"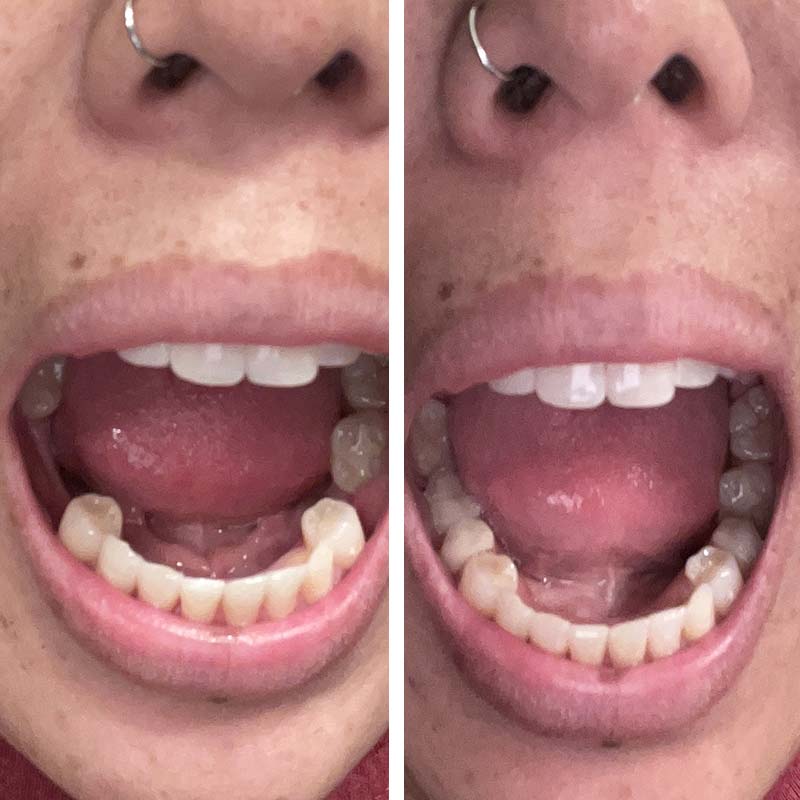 "I couldn't be happier! I had to have several teeth pulled when I was younger and was always self conscious. I am sooooo happy with the partial!"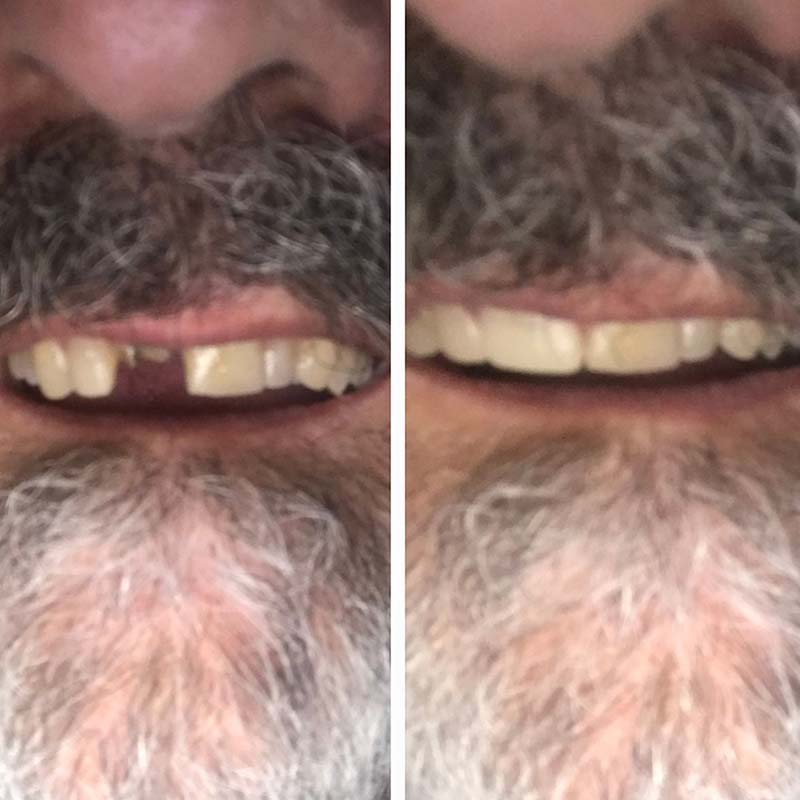 Michel B.
/

Cowansville Qc, Canada
"Perfect. Quick and fit! Very happy customer."





"Thanks, this partial denture let's me smile again!"





"I received my partial today I'll admit I was a bit skeptical, however they arrived today and so far very happy. Thank you"





"I wanted to wait a good amount of time before leaving a review. It's been over 6 months since I received my flexible partial, and I couldn't be more pleased. I was a little cautious prior to my initial contact with dental lab direct because it's all done online and through the mail. I received my kit to make my molds and it was as easy to do myself as it was to have the dentist do it several years ago. (I lost my original partial plate) The time it took from the start to the time I received my partial was about a month I'd say, give or take. It fit better than the one I got from my dentist, and was cheaper. I sometimes forget I'm wearing it as it fits so well. Everyone I corresponded with treated me with respect and they did a wonderful job helping create my new smileThank you!"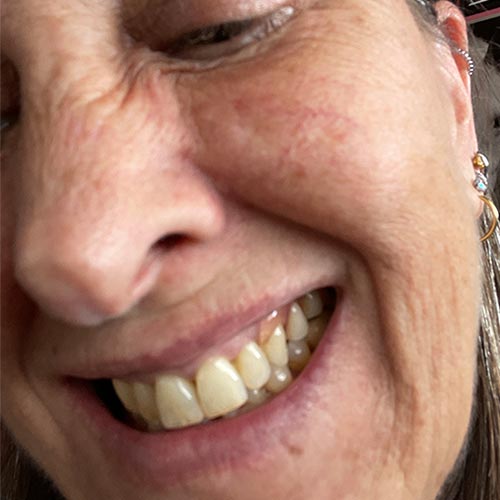 "I was a little hesitant to order a Nesbit from you guys, but I am so glad I did. I didn't expect it to look and feel this good, thank you so much! I will definitely recommend to family and friends"





Ashley S.
/

Rocky Mount, NC
"I am so happy I found DLDsmiles! I am so satisfied with what I received! Thank you guys so much!"





Christopher S.
/

Plattsburgh, NY
"Was shocked and surprised by how well my appliance fit! It is a much better quality than the one it replaced from the dentist (which broke in half)at 1/4 the cost! would highly recommend Dental Lab Direct to anyone needing a dental appliance. If ever needed, i will go here first!"





"With three missing front teeth, I was either going to have to have implants or I could go to Dental Lab Direct and have a bridge made for a fraction of the cost. With my aversion to serious dental surgery and my budget, the choice was easy for me. It was simple to do the required impressions and send back to them. When I received the bridge, it wasn't fitting quite right so I submitted a second impression at no extra cost to me. The second bridge was fitting much better and they even did some further adjustment and it now looks and fits nicely. They care about getting it right. I would recommend their services."





"Just got my partial today and it fits and looks great. So grateful I found this site, it was an answer to prayers. I will be telling others of this wonderful company."





"I received my partial 3 months ago. From the first day on it has worked beautifully. It fit comfortably yet snug, and did the trick. The whole process was easy and painless. I would heartily recommend the service to everyone."





"After dealing with a missing tooth for over five years , I finally decided to purchase a Nesbit partial from dental lab direct. This is one of the best decisions I have made!!!! I sent in my impressions and they told me I had to re-do my lower impressions and sent more putty complimentary. I took the sending impression and sent it back…within a couple weeks I received my new dental appliance and followed the instructions to get it placed in my mouth. It is an absolute perfect fit and my confidence is soaring!!! Thank you all soooo much!!!!!"





Suzan S.
/

Mill Valley, CA
"I am so happy. Just received my flipper. It is perfect: fits well, looks good, feels comfortable!! The best $450 I've ever spent! Thank you Dental Lab Direct."





Kimberly K.
/

Sanbornton, NH
"Omg. I got my partial today and all I can say is amazing. I spent $2,500 on a partial that didn't fit and messed up my bite and hurt my mouth. This is the best $400 I've even spent. Already I can chew again and there is no pain and my bite it's perfect. I wish I'd have found you guys before I spent the $2,500 that did nothing but hurt me. You can be sure that I'll be passing your info out. Not to mention my new dentist it's extremely impressed as well. They may pass your info out as well. I'm so happy they feel awesome. Thank you so much."





William L.
/

Sarasota, FL
"It took me twice to get the impressions correct. My error. Once I followed the instructions my impressions were acceptable. My flexible denture (4 teeth) fits perfectly and is more comfortable than my previous denture from my dentist."





Kathleen D.
/

Oakland, ME
"Beyond happy with the partial I received (4 teeth)! Daughter of a retired dentist, educated as a Dental Hygienist in the 70's, I am so impressed with the quality, fit, and comfort of my partial. I had scheduled an appointment with my dentist for this partial prior to discovering DLD online. I saved 70% of the cost my dentist was going to charge me. The process is easy and the instructions are easy to follow. My questions were answered quickly via email. I highly recommend DLD!!!"





Ashley A.
/

Haverstraw, NY
"Excellent service. Not only did I not do my impressions correctly the first time, they were patient with me and sent another one for me to redo. Once the partial was received, unfortunately it needed a little tweaking. I returned it for them to tweak (all free by the way) after all of this craziness I finally received the partial which turned out to be one of the best decisions! Perfect fit. Beautiful looking. You would never know these arent my natural teeth. Thank you DentallabDirect. Cost effective and professional service."





Steve W.
/

Shelbyville, KY
"I have had my clip on smile for a couple of weeks now. They are fantastic and worth the investment. The process was simple and the service has been fantastic. I would highly recommend to anyone."





"Just wanted to say that I purchased some upper partials from you guys and the experience has been great. They look great. They feel great and I'm blown away. I will refer to you guys anybody that I know that may need your services. Thanks again"





Julian V.
/

Garibaldi, OR
"I was really Leary about this but it all went great. I got the stuff to do my impressions.. Watched the video made my impressions.. Got my clip on smile.. Fits perfect, looks great and at a fraction of the cost.. My wife loves it,,I love it and THANKS Joe for helping asking the way"





"I just received two partial dentures and I couldn't be happier with the way they came out the look was perfect the fit was perfect I would recommend direct Dental Lab to anyone in need Of any kind of denture"





"I got one of these to replace one missing tooth — upper towards the back. After a few weeks wearing it, I find it so comfortable. I can chew normally and no pain and no difficulty! I will say it takes a while to get adjusted to it but the fit is perfect and I'm very happy with purchase. It does say to keep it clean and dry when not in my mouth. I gently clean with a brush and store dry in the box sent. I do wish I could put it in with my lower partial in water and cleaner though. Overall, fantastic!"





"It took me weeks to summon the nerves to mix the molding material and get started. That was easier than I thought. Two weeks later the denture arrived. My wife was stunned by the appearance and the low cost (she has a several years old expensive Valplast). I am thoroughly satisfied and considering ordering a lower set!"





"Dental Lab Direct, you exceeded my expectations. I was worried that my experience would be disappointing and subpar. You were very communicative on your process. The instructions you provided were clear and concise. The turnaround time on your product was fast and came right on time. The price that you issued was well below that of your competitors. Thank you very much for exceptional customer service and for providing 100% satisfaction. You gave me my confidence back. You have a loyal customer for as long as you are in business!"





"I'm 43, grind my teeth in my sleep and am missing 3 of them from it which are all on one side (upper). One of them is completely visible as it is a canine I think. I shopped around online after for hours checking prices and reading review after review. After10 years hating my smile I was on a mission to find partials that I could afford without losing what little money I have on a scam company. This is not a scam company. I read good and bad reviews on this sight but decided to form my own opinion. This is the truth–I ordered. I received the mold kit 2 days later. Taking my time and doing my part (the most important part) I made the mold using the simple instructions sent and put it in the mail the same day I got it. It said I would get my partial in 3 weeks. I got it in 2. Never have had a partial. I snapped it into place and it looked absolutely amazing. Perfect match in gum color, tooth color, and tooth shape. It was a tich snug but is now perfect. The entire process was a little over 3 weeks. Dental Lab Direct deserves recognition for the product they provide and the ease in which it was to obtain. If I can find a way to post pictures to help, I will. Trust me it is beyond worth it. It is scary dropping hundreds of dollars online in hopes that it turns out. Quit over thinking it and jumping from site to site. These guys are fast, efficient, and provide a product that to me is life changing. Thanks for reading and remember when you get your mold kit to do a great job so Dental Lab Direct call create exactly what you need."





Danielle S.
/

Milford, PA
"I just received my partial and i just wanted to let you know I LOVE IT….THANK YOU THANK YOU……so much….you guys are great….you changed my life….."





Brittany H.
/

Phoenix, AZ
"Thank you for all my custom temporary teeth replacement appliance's I absolutely appreciate it from the bottom of my soul! Now I can resume the confidence I had that I felt was gone forever when the incident happened with losing my side and front tooth!"





Roosevelt F.
/

Philadelphia, PA
"I wanted to let you know I was overly surprised with the appliance. It fits better than perfect. I will and have let others know to check your site before paying a crazy dollar amount. Once again…Thank you."





"So I'm not sure Ive told the story before – but I'd had a gap there for almost 2 years now. Working on an implant but the first one failed so had to start at square one and probably won't get one until early next year. After the extraction (I had a retained baby tooth) I got a partial with a huge chunk of plastic and one tooth. Wore it maybe 10 times – couldn't stand it and never could talk without a lisp. Also, I paid quite a bit for it. A year later, your Nesbit has been a savior – fits *perfectly* – easy to put in or take out – I feel way less self-conscious on a Zoom call. And, I can even eat with it in if I'm careful. Worth every cent!"





Maria R.
/

Portsmouth, VA
"I am so very pleased with my partial!! It fits perfectly and I have no problems with it as I usually have with those purchased from my dentist. Henceforth, I will get all my dental appliance teeth from you as long as you continue to service us. I will also tell my friends, acquaintances and family. In fact, two of my sisters have the same issue with their partials and I will be bringing them in soon. Thank you again. It is indeed remarkable what you do and so cost effective! Stay safe."





Theresa H.
"Just to let you know I received my partial. It fit perfectly! Just snapped right in! Thank you so much!"





Aaron M.
/

Hayesville, NC
"Very satisfied with my device! Fit is very good. Great price. Timely response when I had questions."





James W.
/

Bellingham, WA
"This is the most comfortable appliance EVER!!!!! This has completely changed my life, i can eat on both sides of my mouth now!!!! thank you soo much for everything that you do!!!! You, Sir are the True American Hero!!! I can smile and eat with confidence again wow just wow!!!!!! Thanks a million…. literally!!!!"





"I purchased a nesbit partial to replace one tooth. The shipping was delayed both directions due to USPS staffing shortages, but this was no fault of DLD. It was very easy to take my own impressions, and the thorough instructions were greatly appreciated. The appliance itself is better than I could have hoped for! it fits comfortably and is virtually undetectable. The shade match is perfect, identical to my natural tooth color. This little gem is perfect, and I already feel my confidence has returned. Thank you for making such a quality product at a reasonable price and with such a convenient process. I'm so happy that I gave DLD a try!"





"The entire process was seamless. So thankful for my new tooth."





"Just received my dental appliance and it fit's perfectly, thank you so much for the good work!"





Kimberly C.
/

Milledgeville, GA
"I am not a first-time partial denture wearer, so I have to say I was a little bit skeptical at first, but from looking over the reviews and with covid-19 on the rise, I decided to try it. I ordered on October 21, 2020, and 3 days later I received my impression kit. I mailed the package back off immediately and received my final product (partial 6 teeth flexible) on November 14, 2020, and I am amazed at how perfect they look and fit. The color match my gums and teeth to a T. I am beyond satisfied with the product and would recommend dental lab direct to anyone. Thank you all so much for this amazing experience."





"So glad I found you guys,I used to get the same night guard from my dentist for $600. Keep up the good work!"





"I received the partial, thank you so much for the perfect fit, I'm so happy to be able to smile with confidence again. It is very comfortable."





Jennifer J.
/

Orlando, FL
"I was a little hesitant to order a partial from you guys, but I am so glad I did. I didn't expect it to look and feel this good, thank you so much."





Pattie R.
/

Grand Rapids, MI
"Dental Lab Direct was extremely helpful in answering all my questions. They certainly know their stuff. Looking forward to receiving my appliance."




"Thanks for your professional service, My partial fits perfect."




"The hard/soft night guard is very comfortable. I will be ordering from them again."



"I spoke with one of your team members and he assisted me on which partial was best for my circumstance. I was told to order the flexible partial and I love it. "





"I wasn't sure about the whole process but after talking with the representative he explained everything very thoroughly. Taking my own impressions was much easier than expected. My retainers fit perfectly."




"You guys are good! My hard/soft night guard went right in. It's not bulky like the others I've had in the past, and fits very well, thank you."





"The whole process went so smoothly. I'm so happy with my new smile!"




Thomas H.
/

Cottonwood, TN
"First, I would like to say I was very hesitant about ordering online. I also chose Dental Lab Direct for one reason, you had a phone number on your website were others only had an email. I can't believe how well the partial fits and looks great. I really thought I was wasting my money doing this online. You have proven me wrong and I have and will recommend you to everyone. Thank you Dental Lab Direct."