Are partial dentures a viable option for you?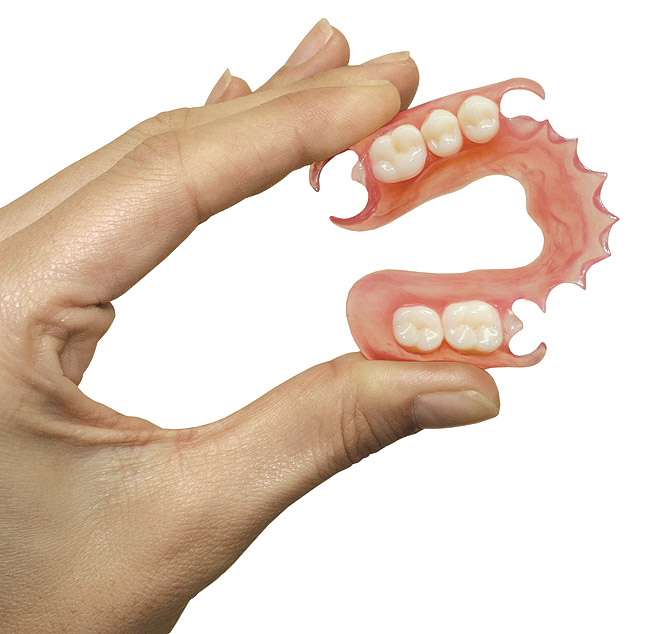 Many people freak out when they hear the word dentures. We in this post are going to debunk that unfounded fear and introduce you to partial dentures and whether you would make a good candidate for the same. It is often that when you hear the word "dentures" you think of a dental appliance that replaces all the teeth by way of a dental arch. However, that is not the only type of denture. A removable partial denture or an RPD is another type of denture. These can be a viable option for replacing a few missing teeth or cavities. You can read this post to know more about these dentures. We have made sure that it has all the information that you may need before making the decision of getting partial dentures. So read on!
As far as the mechanism for an RPD is concerned it rests on the bony gum ridges that would've ideally held the missing teeth. These are then secured in with the help of clasps or other varying attachments in order to fix them well to the adjacent teeth. The removable partial dentures are extremely lightweight and accordingly are designed to last for many many years.  These devices are made of the material called Vitallium, which is although a light weight alloy but is a very strong metal alloy. The usage of vitallium also enables these devices to be extremely thin i.e it reduces the RPD's thickness. If you aren't comfortable with metal alloys in your mouth you will be glad to know that recently, metal-free partial dentures are also being used. They don't have the fit or longevity of the vitallium partial dentures however but are often considered more of a cosmetic solution that is quick and affordable.
You will be glad to know that removable partial dentures can be custom-made. This can be tailored for each individual patient according to accommodate their number, location, and distribution of teeth missing throughout the mouth. This enables it to be the best fit for your needs. Additionally, the beauty of these dentures is that they are built for comfort and furtherance of your dental regime. Their design reflects the health and stability of the gums and remaining natural teeth. This is in order to ensure they won't move unduly or weirdly during normal mouth function. The second reason for making them like this is to make sure that the dentures will be as lifelike and unnoticeable as they can be.  With such features, you don't have to worry about any additional possible discomfort from these dental devices. They are built for perfection.
While RPDs have been a mainstay in dentistry for many years and also are a less expensive way for tooth replacement than implants or fixed bridgework they are often not preferred. We agree that they have certain downsides and shortcomings. This is mainly because of their method of attachment. The common method is to attach them to the remaining natural teeth and such an attachment often inadvertently tends to accumulate plaque. This, in turn, increases the risk of both periodontal (gum) disease and tooth decay, which can cause a lot of problems and discomfort for you. Further, when they are fitted the process requires that they are attached to the adjacent teeth which will cause some damage. Cases have shown that the same has also often resulted in their looseness over time.
However, if your dentist recommends a removable denture don't be worried they're innumerable ways of reducing the problems. First, if you wear an RPD, there are some things you can do to decrease these problems and they are as follows:
First and foremost, always clean your RPD very thoroughly every day. If you use a brush and floss you will not only decrease the chance of plaque in the remaining teeth but the same will also reduce plaque build-up especially at contact points.

Make sure you also remove the dentures before sleeping at night. Never sleep with them.

The last recommendation to ensure that your denture is perfect is to go to the dentist regularly. Make sure you keep up regular dental visits to not only remove the plaque but also to inspect the RPD for problems or wear.
With all the pros and cons before you we can assure you that an RPD is a viable option for improving mouth function and restoring your smile after multiple tooth loss. Often toothache from broken teeth or cavities can lead to unbearable pain and distress. We wish to see you bereft of this pain and thus, recommend that you consult your dentist about these dental devices as soon as you can. Since they are easy to maintain, you should consider them without hesitation if your dentist thinks it might be a good option. Further, as far as the cons are considered with proper care and maintenance, your removable partial dentures can serve you well for many years to come. This is of course if you take proper and good care of them and go for regular dental checkups. We would also reiterate that before you plan on getting these dentures you must always make sure that you consult a dentist and ask him/her whether you would make a viable candidate for the same.
We at Dental Lab Direct understand the needs of our clients. With customer satisfaction as one of our major goals we will make sure that you get what is best for you! Contact us now with your queries. If you would like more information on removable partial dentures, please contact us today to schedule an appointment for a consultation. With a team of trained professionals, we can assure you that we will find the best solution for you.
We understand that every client has special requirements and certain concerns about dentistry and for some the whole thing can be nerve-racking. We understand your fears and our professionals will make sure that you can take a seat while they explain every little facet of this procedure at leisure to you.
Contact us now with your queries!
Visit Our Shop Now to Order Our Products!